LC-P1220P
Related Products


LC-XC1221P
Panasonic LC-XC1221P Sealed Lead Acid Battery. Cyclic type - Golf Buggy, Mobility scooter, Wheelchair


$108.00

12SB20C
Drypower 12V 20Ah Sealed Lead Acid Battery replaces BP17-12, BP20-12, EP17-12, EVP20-12, PS12180, GP12170, GP12200, HR1290W, HRL1280W, EVX12170, DM12-17, DM12-8, DMU12-15, DMU12-20, DMU12-26, CF-12V17, CF-12V18, HGL18-12, HGL20-12, FG21703, FG21803, 12FGH65, FGC21803, DC17-12, DC20-12, HGL18-12, CB12V18AH, CB12V20AH, CBC12V22AH, CBL6V18AH, CBX12V17AH, CBX12V18AH, CBX12V20AH, NPX80-12, NP18-12, LHM15-12, HF17-12A, HV17-12A, LP12-15, LP12-18, LP12-20, LPC12-18, LPL12-18, LPS12-18, LPX12-17, LPX12-18, LPX12-20, WP20-12IE, NPD12170, OCB-18-12, LC-RD1217P, LC-P1220P, LC-XC1221P, PB12/18, PDC12200, PS-12180, PS-12200, PSH-12180, PE12V17, PE12V18, RM12-17, RM12-18DC, RM12-20DCM, HR12-70W, HR12-75W, HR12-80W, HR12-88W, EV12-18, EV12-22, EV12-24, EV12-24B, RT12180, RT12200, CP12170

$78.00

| | |
| --- | --- |
| Model No | LC-P1220P |
| Selling Unit | EACH |
| Description | Panasonic LC-P1220P 12V 20Ah Sealed Lead Acid Battery |
| Application | Standby, UPS, Security, Alarm, Instrument, Test Equipment, Medical Equipment. |
| Chemistry | Sealed Lead |
| Voltage | 12V |
| Watts Per Cell | 92W |
| Nominal Capacity | 20000mAh |
| Brand | Panasonic |
| Width | 76mm |
| Height | 167mm |
| Length/Breadth/Depth | 181mm |
| Weight | 6600g |
| Weight(kg) | 6.6 |
| Brand | PANASONIC |

Comments

Panasonic LC-P1220P 12V 20Ah Sealed Lead Acid Battery


This model is a high capacity version of the battery LC-RD1217P also available. This model should be used for standby use only.

For dedicated cyclic use such as mobility scooters & golf buggies please use model LC-XC1221P

This VRLA battery is an AGM type. Please ensure the correct charger is used to charge the batteries.

To extend overall service life of the battery we recommend the four stage microprocessor controlled Battery Fighter range of chargers. Use model BFA012 charger for standby applications & maintenance (top-up) charging of batteries in cyclic applications. For dedicated cyclic use of the battery we recommend chargers models BFP012 for 12 volt systems & the BFP024 for 24 volt systems.

Use of automotive or gel type chargers may shorten battery life and may not fully charge this battery type.
Two or three stage VRLA/AGM chargers are acceptable.

Using non cyclic batteries in cyclic applications will result in a shorter service life compared to cyclic design batteries.
Whilst cyclic batteries are made for continuous use, longer overall service life (number of recharges) will be achieved by recharging before the battery goes flat, even if only a small amount of the batteries charge was used. Leaving a lead type battery flat (voltage is too low to drive equipment) for even as little as 24 hours may reduce run time per charge and the overall life of the battery.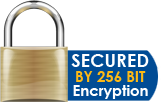 Enjoy safe and secure
shopping & checkout using