** Limited time offer while supplies last **

This quick automatic charger & powerbank including 4 x AA Ready to Use NiMH batteries features:
Charger Features
Intelligent charging.
USB Input charging. Can be connected to any USB powersource for power input
USB to Micro USB charge/discharge cable included

Red (charging) Green (fully charged) LED indicator
Charges 1-4 AA or AAA NiMH cells.
Individual cell charging control.
Peak voltage control.
Temperature control/protection.
Minus delta voltage detection.
Safety Timer control.
Alkaline battery detection that automatically prevents charging if non-rechargeable alkaline batteries are accidentally inserted.
Short circuited cells detection.
Includes 4 x Fujitsu HR-3UTB 2000mAh (Min.1900mAh) LSD AA NiMH cells thare are able to be recharged up to 1000 times.
Charge Time for 4 x cells - 5 hours.
Powerbank Features
9.6 Watt hours of power available for charging any USB input devices like smartphones, tablets, MP3 players and many other digital devices.
Offers more than one and a half charges for iPhone 4/4S, 5/5S using the included 4 x AA NiMH batteries (when fully charged)
Blue LED indicator for powerbank output mode
Commonly available, standard primary AA or AAA batteries can be inserted to use the powerbank as an emergency charger
Safe and approved for airline travel. Can be packed in airliner stored luggage unlike Li-Ion powerbanks
Japanese technology with batteries made in Japan & charger made in China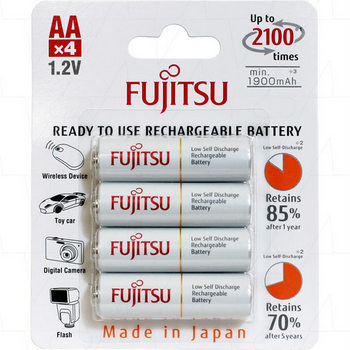 It's the perfect battery for everyday use devices that often need to be recharged, such as wireless game controllers, LED flashlights, remote controllers etc...

Rechargeable up to 2,100 times
Re-using each battery thousands of times is a great way to save money and the environment.

Built to last
Conventional rechargeable batteries lose their charge daily, but not FUJITSU high charge retention batteries. They retain 85% of their energy even after 1 year storage, 70% after 5 years storage.

Environmentally friendly Partially charged by solar energy
Pre-charged at the factory before shipping.

Suitable for low temperature
"Fujitsu Rechargeable Battery" can be used at temperature as low as -20 degrees.
Made in Japan
CLICK HERE to see our full range of Fujitsu Nickel Metal Hydride Chargers with Batteries