Enecharger USB Battery Charger for 2 or 4 AA or AAA NiCd/NiMH (Includes 8 x Eneloop AAA Batteries + Bonus Battery Case)
Specially designed for rechargeable batteries used in digital and audio products. The NC41500USB enecharger has the following features:
Recharges 2 or 4 pcs of AA and AAA batteries at a time.
Powered by an external AC switching mode adaptor with worldwide input (100 - 240VAC 50/60Hz)
Includes 12V car lighter adaptor
Includes USB cable for connection to powered USB devices.
Circuit protection against damaging powered devices supply the USB input power
2 independent channels with individual cell LCD displays
Intelligent microprocessor controlled
Negative delta V automatic cut-off function
Temperature sensors to avoid the battery from being damaged by over-heating
Reverse polarity protection
With maximum charging safety timer control for overcharge protection
Fast charge rates AC or 12VDC input AA 1500mA, AAA 600mA. USB input AA/AAAx2 560mA, AA/AAAx4 280mA.
Top off trickle charge rates: AA 60mA, AAA 35mA.
Charge times
Battery Capacity, Size, Chemistry & Charge time
2700mAh NiMH AA 130 minutes
2500mAh NiMH AA 120 minutes
2000mAh NiMH AA 90 minutes
1700mAh NiMH AA 80 minutes
1000mAh NiMH AAA 120 minutes
800mAh NiMH AAA 95 minutes
For a selection of NiMH (nickel metal hydride) batteries suitable for this charger please click here .
The NC41500USB Replaces MW1270 charger in our line-up.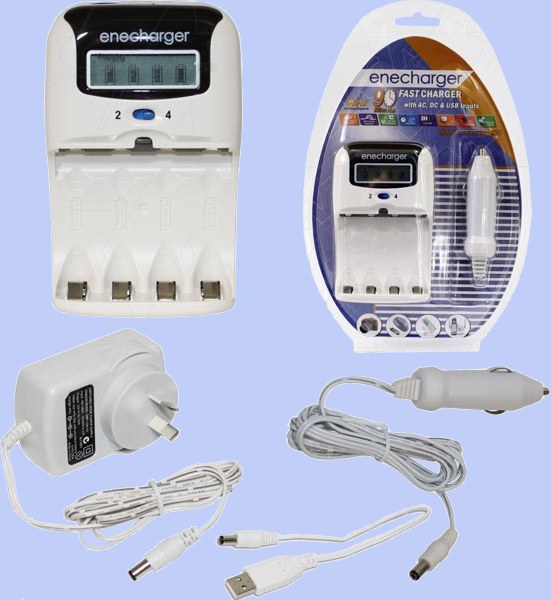 Features of Eneloop batteries

Eneloop technology: high capacity NiMH batteries with superior charge retention makes Eneloop batteries ideal for virtually all situations where alkaline or lithium AA / AAA size batteries are currently used.
Pre-charged and ready to use straight from the pack.
Recharges up to 2100 times. You'll use hundreds of alkaline batteries just to match the overall life and performance of Eneloop batteries.
Low self discharge means eneloop batteries are still ready for use even after long periods of storage - up to 65% after 5 years!
Environmentally friendly - Eneloop batteries and packaging are completely recyclable.
Rechargeable on most standard & fast chargers designed for NiMH batteries.