NOTE: This is a AA bulk pack of 50 - 50mm length x 14.5mm diameter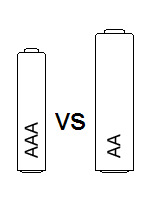 FOR AAA BULK PACK 50 - CLICK HERE
Eneloop features very low self discharge which makes them ideal for virtually all situations where alkaline batteries are currently used.
Normal NiMH batteries provide much more power to high drain devices compared to alkaline batteries but they can lose most of their charge in a matter of weeks. As a result NiMH batteries are excellent for high power devices such as digital cameras however, unless charged shortly before use, normal NiMH batteries are generally unsuitable for medium to low drain devices because of their high self discharge, especially when use is infrequent. Eneloop eliminates this problem making them ready to use when you are!
Eneloop batteries offer the convenience of being ready to use straight out of the packet for up to one year before requiring recharging. Consumers can buy & use Eneloop batteries immediately & obtain a charger later on.
Once capacity is used & the batteries have been recharged Eneloop battery capacity is approximately 85%* after 12 months storage & still 70%* after 2 years! This convenience plus the extra power of NiMH and the ability to recharge up to 1000 times makes Eneloop the battery of todays high power demands offering vastly superior economy for use in the majority of devices accepting AA or AAA size batteries. You'll use hundreds of alkaline batteries just to match the overall life & performance of Eneloop batteries.
Eneloop batteries can be charged on most standard & fast chargers designed for NiMH batteries.
Eneloop is now available in Australia through national & independent retailers.
*The percentages are of the amount of available capacity the battery has available. Total capacity will eventually reduce as the battery reaches the end of it's cycle life. Available capacity is based on storage in normal temperature & humidity conditions. Further information is available from the product data sheet.
Please recycle after use.